We offer a large variety of Shepard Niles replacement parts.
It is our goal to get you any part you need.
Used Shepard Niles Motors For Sale 
Help us help you when looking for parts:
Please have as much information ready for us as you can, including part numbers and measurements.
Is your Shepard Niles hoist getting worn out but you can't afford to take it out of service? Have you thought about a rebuild? No other hoists can hold up to the longevity, safety, and performance your Shepard hoist has given you. Cranetech inc stocks complete gear assemblies for most Shepard Niles hoists. Our factory trained service technicians will come to the job site, completely check over your hoist and crane and make recommendations as to what is required to bring that worn out hoist or crane back to the performance you have come to expect.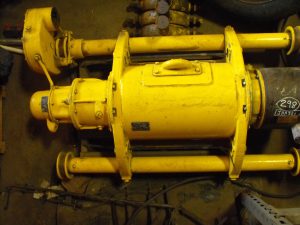 We can supply:
Motors- We Rent, Rebuild, Refurbish or build to your specifications complete "Turn Key" Shepard Niles hoists and trolleys
Complete Hoist Units-We Rent, Refurbish or build to suit
Trolley and Drives- We Rent, Refurbished or build to suit
New replacement motors for most Shepard Niles hoists furnished with a splined shaft are available
We also have many AC or DC reconditioned Shepard Niles motors for sale
A few examples of Shepard Niles equipment we have refurbished-